Minor House
Official Residence of the Chancellor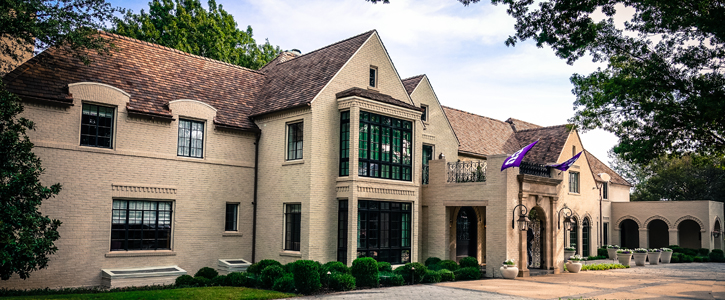 The original eleven-room Tudor Revival-style house was built for $20,000 in 1937 for the family of Mr. and Mrs. George B. Hill (Marge). Mr. Hill was a prominent Fort Worth businessman and served as president of three oil companies: Hill & Hill Inc., Throckmorton Co. Inc., and Export Petroleum Corporation. He commissioned one of the premier architects in Fort Worth, Joseph Roman Pelich (1894-1968), to design the home.
Mr. Pelich was born in Austria and immigrated with his family at a young age to Cleveland, Ohio, where he was raised. He graduated from Cornell University with a degree in architecture in 1916 and continued his studies for one year at the Sorbonne in Paris. He returned to Cleveland where his first major works were as part of a prominent Cleveland architectural firm.
When the United States entered World War I, he enlisted in the United States Army Air Corps. His first assignment was in Canada serving in the Royal Flying Corps, and then later he was assigned to Fort Worth, TX, with the RFC. He became the chief flying instructor for Fort Worth's three Army airfields. This love of flight would figure prominently throughout his life and career as he would later design one of the first airports in Fort Worth. He was discharged from the service in 1919 and remained in Fort Worth where he started his architectural practice.
In 1923, Mr. Pelich married Kathleen Blair of Dallas. He and his firm were responsible for many notable public buildings in Fort Worth, such as the original circular Casa Manana outdoor dinner theatre, Fort Worth Public Library (1938), Polytechnic and Eastern Hills high schools, Fort Worth Medical Society's building, WBAP-TV Station, and St. Joseph's Hospital. His firm also designed several buildings on the Texas Christian University campus, including the Robert Carr Chapel and the Daniel-Meyer Coliseum. He considered his most significant career achievement to be the Greater Southwest International Airport/Amon Carter Field (1953) in association with another prominent Fort Worth architect, Preston M. Geren, Sr.
In addition, Mr. Pelich designed some of the most impressive and stately homes in Fort Worth—many of which are in use today. His homes can be found primarily in the upscale enclaves of Westover Hills, River Crest, and Park Hill neighborhoods. His designs reflected a variety of styles—American, Spanish Colonial, Tudor, Norman French, and Italian Renaissance.
Mr. Pelich received many awards and distinctions, among which was the Texas Restoration Award from the Texas State Historical Survey Committee for the birthplace in Denison, TX, of former U.S. President Dwight D. Eisenhower.
In 2014, a small group of generous individuals purchased the home from David Minor '80 as a gift to the University for use by the families of all future Chancellors. Mr. Minor was a successful Fort Worth entrepreneur and the founding director of the Neeley Entrepreneurship Center at TCU, where he served in that capacity for 10 years. The home was the residence of the Minor family for 22 years.
When the home was envisioned as a possible extension of the campus for entertaining members of the TCU community, visitors and dignitaries, Mr. Minor facilitated the sale of his family home. Michael J. Bennett '78, AIA was commissioned as architect for the renovation and addition of the dining pavilion. Rick Yuill of JSZY Construction, Inc., served as the general contractor; Julie Stryker of Corley Design, Inc., was the interior designer for both public and private areas of the home. After renovation and retrofitting of all mechanical and electrical systems, the home reopened in October of 2016 and was named the Minor House.
Sources
— Cohen, Judith S., comp. "Pelich, Joseph Roman." Handbook of Texas Online: Texas State Historical Association. Web. 24 May 2016
— Joseph Roman Pelich: Into the Wild Blue (print) Yonder." Hometown by Handlebar. Posted. 26 Jan. 2016. Web. 24 May 2016.